Pneumatic Vendors > Starcyl Air Cylinders
Pneumatic Air Cylinders, Hydraulic Air Cylinders and Air Presses
STARCYL manufactures NFPA interchangeable pneumatic and hydraulic cylinders, ISO 6431 and ISO 6432 metric air cylinders.
Starcyl is known for developing the revolutionary upgradeable multistage pneumatic cylinder which combines low space usage and multiplies force by adding multiple stages.
Starcyl's Starnite process of Nitro-carburizing provides high wear resistance as well as excellent sliding and running properties.
Product Offering
IsoMetric Series
ISO/VDMA – VDMA 24562
DIN/IDO 6431
ISO15552
Star 1 Series
Space Savers Square Line
Multistage and Upgradeable
Star 2 Series
Space Saver NFPA Style Mount
Star 3 Series
NFPA Interchangeable
ST3RL Series
NFPA Rod Lock Cylinder
Star 4 Series
NFPA Interchangeable
Heavy Duty Pneumatic
Light Duty Hydraulics
Star 5 Series
Medium Duty Hydraulic Cylinders
Star 6 Series
Heavy Duty Hydraulic Cylinders - 3000psi
M3 Series
Multistage Cylinders
NFPA Style Mount
Space One Series
Space Saver Air Cylinder
Air Presses
Single and Twin Power Presses
Special Application Designs
Product Features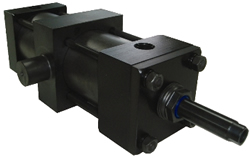 Aluminum Construction
Flush mount standard (gives the option to the distributor to reduce stock)
Cushion standard (no adders)
9 bore sizes 1½ to 10" and others
Stock strokes (1, 2, 3, 4, 5, 6, 7, 8, 10, 12") for 1½ to 5" bore
Strokes available to any practical length
18 standard mounting styles (Nitrotec Clevis Mount)
Oversize and Double Oversize Rod
250 PSI
NitroCarburizing treatment on rod (20 times better than chrome) (up to 65 Rc)
4 rod end options
Piston design with wear ring to protect the cylinder tube against small side load
Extra impact noise reduction
Stainless steel head, cap, rod & tie rods available as an option with SS tubing for food industries or chemical environment. (min. qty)
Real competitive pricing. (The best price on the market)
Custom cylinders for OEM. Large Rod Diameter 3"-4", Ajustable Stroke, S.S. Needle Valve Ajustment, Delrin Gland, etc.
Also available: Non-rotating external & internal -Air/oil tanks
Technical Specifications
PDF Starcyl Cylinders Star3 Series
PDF Starcyl Hydraulic Cylinders ST5 Series
PDF Starcyl Heavy Duty Hydraulic Cylinders Star6 Series
PDF Starcyl IsoMetric Series Air Cylinders ISO/VDMA