Pneumatic Vendors > Airpot/Airpel

Low Friction Solutions for Air-Powered Motion
AIRPOT manufactures Anti-Stiction Air Cylinders, Precision Air Damping Dashpots as well as the AIRPEL-AB Air Bearing Cylinders and Pneumatic Actuators, the quality of which has earned them international recognition for product excellence.
Airpot Corporation is the world's leading manufacturer of ultra low friction, super-responsive pneumatic piston and cylinder motion dampers and actuators.
Product Offering
Anti-Stiction Air Cylinders
Air Bearing Cylinders
Precision Dashpots
Pneumatic Actuators
Snubbers
Piston/Cylinder Sets
Filter-Filter-Regulators
Product Features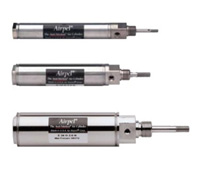 Airpel Anti-Stiction® Air Cylinder eliminates perceptible stiction and reduces running friction to ultra low levels imparting smoother motion than any other cylinder.
The unique seal-less construction and combination of materials allow unsurpassed longevity, high cycle rates without lubricants, smooth operation at extreme temperatures, and instrument quality performance for low to medium force and energy levels.
Common Applications:
Semiconductor & IC processing equipment
Web/wire/filament tension controls
Test & measurement instruments
Automated medical analyzers
Dispensing & vending machines
High capacity mail & cash handling equipment
Airpel-AB® Air Bearing Cylinder is a unique new air cylinder featuring Force Without Friction® air bearing technology. This cylinder is a pneumatic driving device that takes air-powered motin to an incredible level of smoothness, cleanliness and unsurpassed longevity.
The specially shaped stainless steel piston is precisely fitted to the glass cylinder to create a true air bearing airflow effect. The new design provides a virtually unlimited piston cycle life with super-clean operation and no required lubrication.
Common Applications:
Precise tensioning of ultra-fine wire, filaments or fibers
Positioning mechanisms supporting delicate materials, optics or liquids
Super-sensitive force control for holding or clamping fragile materials, wafer dicing or polishing
Counterbalancing and safety support for vertically positioned linear motor driven masses
Precise laboratory test equipment for weighing, measuring and calibrating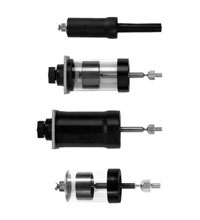 Airpot® Precision Dashpots reduce velocity, vibration and oscillation in dynamic mechanisms where smooth, near friction-free motion is critical. This is accomplished by using a piston to force ambient air through an orifice at a controlled rate to dissipate kinetic energy.
Airpot Dashpots prevent damage to sensitive equipment, reducing impact noise and wear. Dashpots also provide simple, low cost, adjustable speed control without external power as well as non-electrical timing capability. 
Common Applications:
Any application where these conditions are present:
where smooth, near friction-free motion is critical
where responsiveness to low forces/low kinetic energy levels is required
where equipment is sensitive and precise
where clean operation is important
where cycle rates are high or life span needs to be long
where reliability is critical
where temperatures are extreme or environments are humid
where high quality is a product feature
where non-electrical motion control is advantageous
Technical Specifications
 LINK TO VENDOR     AIRPOT CORP / AIRPEL